Don't Just Tick the Box
The Three Thank Yous: online giving and how your donors feel
By Edwina Newcombe - Aug 5 2021
In the second blog on our online giving series, Edwina asks: are you using every opportunity in your thank you to make your charity stand out?
You've probably, like me and the rest of the world, spent a lot more time shopping online over the last 18 months. The shift to online seems to be here to stay. Here in Ireland, while the re-opening of shops has led to a small decrease in online shopping month on month, when compared with the previous year, online shopping still increased by 10% in June.
What that means it that we are constantly filling in forms whether that it's to do our food shopping or buy a new pair of shoes. We get an email confirmation and a delivery at some point that hopefully makes us feel good.
But what happens if you fill out a form to help give someone a home, help a dog that has been abused or provide food for a starving family? When there's no physical reward in the post, how does it make you feel?
I made 60 donations to 30 charities in June and - unfortunately - there were very few that made me feel that I had just done something wonderful. Instead, they felt like transactions, but transactions that I didn't get anything out of. There were exceptions who went that bit further, but in the main it was pretty uninspiring.
In this blog, I want to focus specifically on thanking process (click here to read more insights): when it comes to thanking there are three main opportunities:
Thank You Screen
I received many different types of thank you screen ranging from one line just saying 'Thank you for your donation' to longer thank yous, outlining what my donation will do and signed by a real person. The least inspiring were the screens that told me my order has been processed.
And those that stood out played me a happy GIF of the children I will be helping, smiling and clapping their hands. Two organisations asked me to take a survey – they showed me they appreciated me and wanted to know more. I know based on the thank you screens which organisations I would give to again! So don't neglect this opportunity to make your donors feel good at the instant they are doing good.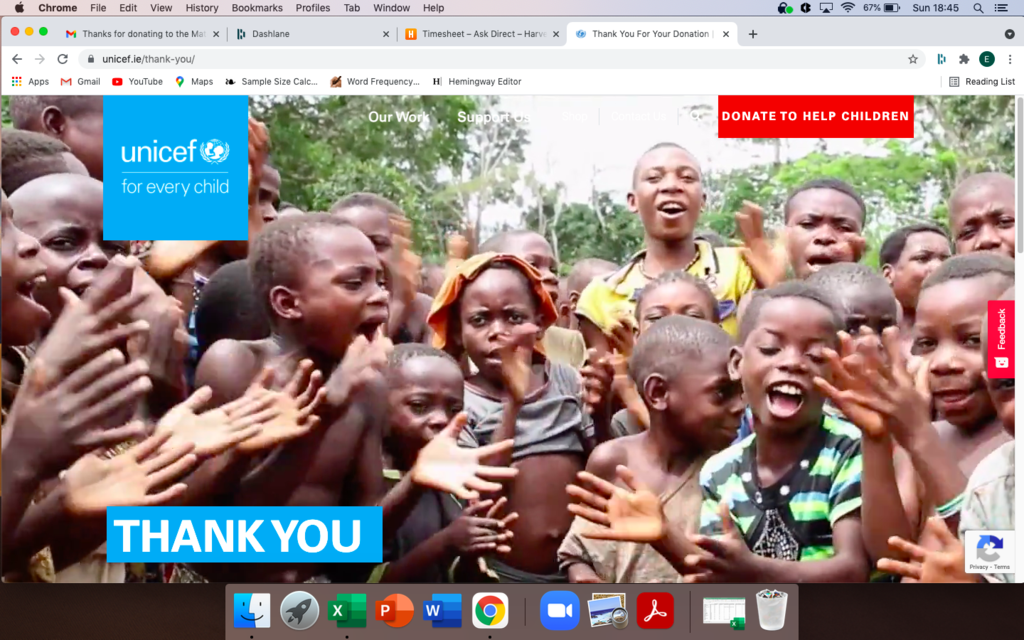 Thank You Email
Most thank you emails were immediate. So the ones that stood out were those that were heartfelt and felt genuine; those that really told me what my donation would do. And even better if they told me that making a donation singled me out as a good, kind person.
Problematic ones were clearly formulaic. Or the auto personalisation didn't work i.e. thank you for your gift towards the where it is needed most appeal. I've already pointed out how important it is that you are making gift to your own charity as it will help iron out any issues like this. You have to put yourself in your donor's shoes as you are making the donation rather than using it as a box-ticking exercise.

That Extra Step
Three charities sent a second thank you email a few days after the first. This made them stand out from the others – they already had a good thank you process in place and the second email delivered another hit of good feeling.
Special mention to Barnardos and Goal who also call every donor that makes an online donation. The thank you calls that I received were warm and thankful – I had no doubt that they appreciated my gift and were going to use my money well. And when I think back to all of the donations that I made, they are organisations I instantly remember.

We know that donors gave more gifts and to more organisations in 2020. The chances are some donors will be making decisions on who to continue to give to. How are you going to stand out from the crowd? Making your donor feel needed and appreciated is going to make them want to give to you again - so make the experience as human as possible, and the follow up memorable.
Edwina Newcombe

Subscribe to our Mailing List