Why the second-best time to talk to your donors about legacies is now
Have you ever heard this proverb?
By Edwina Newcombe - Mar 23 2021
The best time to plant a tree was 20 years ago. The second best time is now.
Why "second-best"? Because the best time to talk to your supporters about legacies was before the pandemic. Those who were talking about to their donors about legacies already were perfectly placed to gain from the increased level of will writing during the pandemic.
And there definitely was an increase. This time last year, 31st March 2020, MyLegacy surveyed solicitors, asking if they had noticed a change in enquiries about will writing since Covid hit Ireland:
76% reported an increase in enquiries about wills
The average increase in enquiries was up 28%
Conversion from enquiry to wills was up 86%
That increase has continued - last week Elaine Byrne, Solicitor with Regan McEntee & Partners, Trim, Co. Meath, told Claire Byrne on Radio One that all solicitors have seen a huge increase in the number of people contacting them to write their wills (which is an essential legal service here in Ireland).
In the UK, Farewill tracked the increase in the number of wills being written against what was happening in the pandemic. They observed that bad news led to a spike in the number of wills written, while good news led to a dip. The announcement of lockdown, milestones around the number of death reached etc all lead to an increase.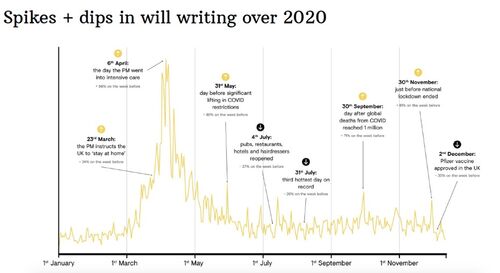 The Year in Wills Report 2020: How COVID 19 made us all face our mortality. Farewill
In fact, the day that Boris Johnson was admitted to ICU was the day that the most wills were written in the UK last year. People were reminded of their own mortality, they were motivated to get their affairs in order, and, crucially, they had time on their hands. Conversely, when there was good news, such as lifting of restrictions, hot weather, or positive news on vaccines the number of wills written fell.
So what charities will have gained from this increase in will writing? The charities who were communicating with their donors about wills before the pandemic.
When we are conducting donor research on behalf of clients and we talk to them about legacies, we have found that the biggest barrier to leaving a gift to a charity in their Will isn't children, wealth or any of the other common barriers we talk about.
It's the fact that donors don't know that they can leave a gift in their will to their charity of choice.
If you were consistently communicating with your donors about legacies before the pandemic, you've had an advantage over charities whose donors didn't know that it was something they could do. If you've made the case for why they should leave a gift to your charity, then you'll likely have benefitted from an increased number of your supporters writing their Will. And that's why the best time to talk to your donors about leaving a legacy to you was pre-pandemic. When we were blissfully unaware of what was ahead.
BUT don't despair. While we all hope we have passed the peak of bad news that led to an increase in will writing, there are still likely to be higher numbers of people putting their affairs in order over the next few months. And that is why now is the second-best time to talk to your donors about including you in their will. Do it now, don't wait.
Should I really be talking to supporters about death…? Yes! Death has surrounded us for the last year in a way it never has before. A well-framed legacy ask isn't going to be the thing that makes them think they are going to die; they've been listening to the news every day.
So start letting your donors know that they can leave a gift to you in their will. And persuade them that you are best charity to ensure their values live on. And do it now. Who knows what will lead to the next spike in will-writing, but if you start talking to your donors now they will be well primed to include you when the time comes for them to get their affairs in order.
If you'd like help developing your legacy messaging, you can get in touch with me on Edwina@askdirect.ie.
Edwina Newcombe

Subscribe to our Mailing List