The one emotion missing from your fundraising
Or what would Warren do?
By Caoileann Appleby - Nov 26 2019
Fundraising is about emotion, right? We all know that emotion drives action, and that a good, powerful, successful fundraising ask must start with emotion (right?).
I meet a lot of fundraisers – and possibly more accurately, their colleagues – who aren't comfortable with this. Or if they are, they're comfortable only with the easier, 'nicer' emotions. The ones we often focus on after our supporters have donated.
Love. Joy. Pride. And there's nothing wrong with that.
But we're not fundraising because everything is nice and we want to make it more so. We need our supporters because everything is not nice; something – perhaps many things – are wrong in the world and we need to fix them. We need to be comfortable with being uncomfortable. We need to tap into the not-so-nice emotions too.
Pain. Fear. Anger.
Want to take a guess at the most underused?
Let US Democratic candidate Elizabeth Warren show you. After some of her (male) rivals criticised her earlier this month for being "angry" and "more interested in the fighting"; instead of trying to refute their criticism, she owned it. She even emailed her supporters about it: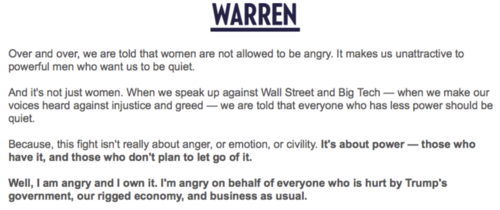 She asked them to find their own anger – and, crucially, do something with it.
And therefore she moved the conversation forward (for any fans of improvisation or productive brainstorming, this was a "yes, and" moment):
"I plan to use this anger to keep the House, take back the Senate, and win the White House"
You might be thinking, yeah, but that's politics. How can it work for fundraising?
I first learned the power of anger as a volunteer fundraiser and Board member of ASN. At the time, we had no paid staff and were founded and run entirely by volunteers. And most of us were volunteers because what our clients were forced to go through made us absolutely bloody furious. Anger was something we all had in common, and in common with our donors, too:
My experience started a fire in me - which took a couple of years to ignite - and now I am angry that the situation in Ireland has not been changed, and it so badly needs to. – ASN donor, 2016
So how did we use that to raise money?
By asking supporters what motivated them; paying attention to what was making them angry; and giving them something to do with that anger. In the words of Blair Warren, we gave them rocks to throw at their enemies.

In August 2014, the horrific case of Ms Y hit the headlines in Ireland. We sent one email to the 1,300 or so supporters on our email list at the time… they donated over £2,500.
Nearly two years later, a woman in Northern Ireland was prosecuted for having an abortion at home – because she couldn't afford to travel to Britain. We set up a JustGiving page, and used Twitter to let people know where to direct their anger (we didn't even have time to send an email). That appeal raised over £12,500 in a week.
In 2017, activists in Northern Ireland were raided by police. Our supporters donated over £8,000 in response.
That's by tapping in to the power of anger; and the desire to turn that anger into action (check out the hashtag for more).
And it's not just ASN. RAICES Texas raised $20 million in a week last year, after a Facebook fundraising page set up by two supporters – protesting against the inhumane treatment of child refugees on the border - went viral.
Not only did RAICES raise an incredible amount of money, they've put it to excellent use, hiring even more staff (including, yes, more fundraisers):
Before the fundraiser, RAICES had 68 employees. Now, the organization has over 200, more than tripling the size of their staff in less than a year.
And because they see donations as acts of protest, they're still talking to their supporters about their anger and rage – front and centre: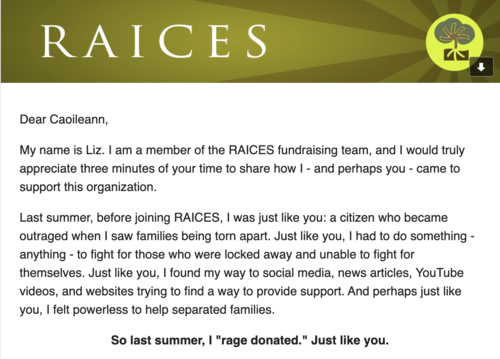 This email not only asks me to donate again, but explicitly asks me to tap into that anger again. It signs off with:
If you're still mad like I am, then I ask you to make a gift today. Join me in taking a stand once more as an army of "rage donors" protecting and defending immigrants and refugees.
Yes, you can't use anger all the time (anyone who tells you there is One True Fundraising Rule to Rule Them All is lying or stupid, or possibly both), but equally, you can't expect that relentless positivity will keep working.
Donors know better. If there's no problem, there's no solution: and there's no need for them.
We live in a messy world. There's plenty to be angry about; and plenty of actions we can take to make it just a bit better. So what's making your supporters angry – and could you do more to give them a way to turn their anger into action?
Read more: this article from Paul de Gregorio and Katherine Sladden gives some more examples of the power of anger from Hope not Hate and Change.org.

Subscribe to our Mailing List