Ask Direct goes to Offset
- Apr 11 2019
Celebrating its tenth year, Offset has become one of the world's most inspirational and educational conferences for the design and creative industry.
Set over three days in Dublin, and with one of our Art Directors, Colin Byrne speaking, Ask Direct happily absorbed and embraced activism through illustration.
Head of Creative, Annetta Murphy, and Head of Client Campaigns, Inga Byrne share their inspirational Offset moments.
Annetta Murphy, Head of Creative
Being my first experience of Offset, I wasn't sure what to expect.
I certainly didn't bargain on watching an animated video of talking genitals discussing sexuality, courtesy of BAFTA-award-winning filmmaker, Anna Ginsburg.
But what affected me most was when she began talking about her younger sister's battle with anorexia.
Living through and alongside her sister's nine-year struggle, Anna created the brilliant, animated short, What is Beauty? By showing how the definition of beauty has evolved through the ages we see how impossible it is for women to keep up with the media's every changing ideals of female beauty.
I took away two things from Anna's session: one, as 'creatives' and as fundraisers, we have the privilege and duty to put a mirror up to society, to ask questions, help fill in what's missing, and bring issues out of the dark and into the light.
And secondly, from all our life experiences, good and bad, we have the opportunity to create and bring into the world something thought-provoking, impactful and memorable.
Thank you Anna.
Inga Byrne, Head of Client Campaigns
So I'm going to cheat.
But just a little white cheat.
I was asked to write about my favourite session. So I'll tell you all about Joe Caslin, but just like Offset, I'll leave the best 'til last.
First, I'll tell you about Victo Ngai, a food-loving, dog-loving only child with a passion for illustration. We're like two peas in a pod (except, she is an insanely talented illustrator – and I once had a childhood dream of becoming an artist).
But the thing that connected with me most was this. Victo believes…
"There are no boring assignments, only boring solutions!"
And for once this didn't just feel like a sound bite at a conference. Her work has an energy and cheekiness to it. You can see the beautiful craftsmanship, but blink and you'll miss the tiniest of detail that lets you in on the joke, and brings the mundane to life.
As I sat in the dark space, experiencing her work, I felt a renewed visual energy ignite something which I have already started to spread throughout the team.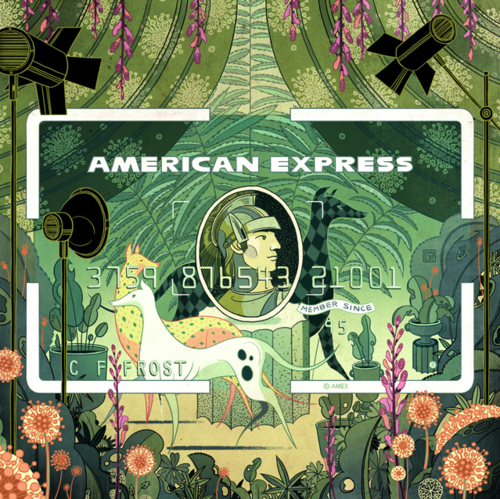 Image Credit: Amex Art Cards by Victo Ngai
So, back to Joe.
As I sit and type I can't help but smile at the fact that it is exactly two years to the day that Caslin's most renowned work was unveiled on the corner of Dame Street and George's Street. The Claddagh Embrace, marked the beginning of a movement that would change our tiny island forever.
Known for his large-scale, visually commanding, black and white drawings, there is power in the simplicity of Caslin's work. The figures both complement and challenge the world around them. Dealing directly with social issues of modern Ireland, they engage their audience, encouraging open dialogue, beginning conversations too often ignored.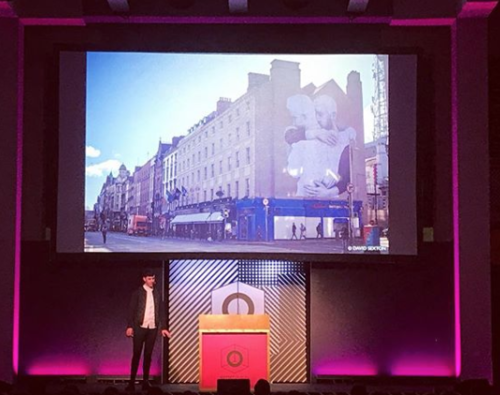 Image Credit: Offset Instagram
Joe is a change-maker. A self-professed activist. And he certainly knew how to move the crowd at Offset. Speaking about topics such a mental health in young men, direct provision and consent, he engaged his audience in a way that raised not just compassion, but the anger that so often becomes the catalyst for change.
Closing the conference, Caslin asked – What fucks you off? Use your design skills to help a cause you care about.
And so while I didn't burst to my feet for the inevitable and well deserved standing ovation (and unlike the delegate beside me, I didn't burst into tears), I left Offset knowing I am doing something about the things that fuck me off.
Animal cruelty. Homelessness. Poverty. Inequality.
I am proud to be a fundraiser. And I am proud of the creative work I do with Ask Direct.
So today I urge you to ask yourself – what fucks you off?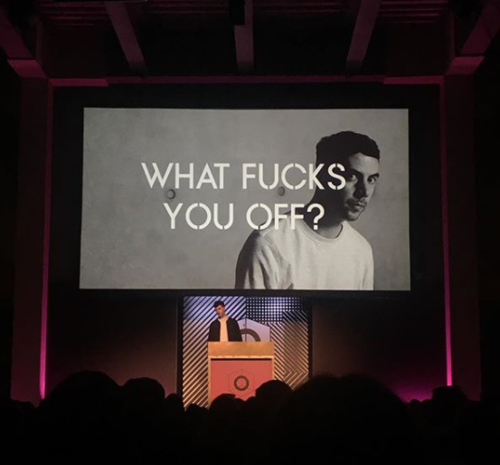 Image Credit: Offset Instagram
Subscribe to our Mailing List