Why are we still so bad at the basics?
Ask, thank, feed back and ask again: why something so simple isn't easy
By Caoileann Appleby - Nov 12 2018
Earlier this month I was invited to speak at an IOF Scotland seminar, focused on fundraising for 'unpopular' causes. As usual, I was evangelical about making 'the Giving Cycle' the centre of your fundraising.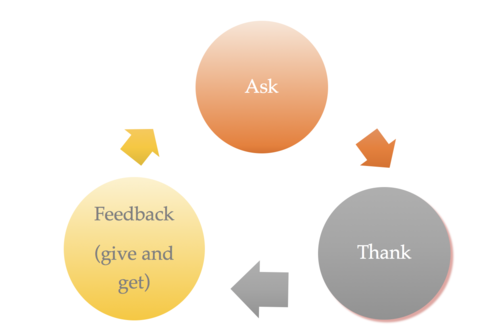 The seminar attendees were a small and very engaged group, and I got some great questions. Here's one I've been thinking about a lot since:
We've been told about the importance of thanking, feedback, and asking for years. Why are we still so bad at it?
To be clear, the person asking didn't disagree that it was important. He was simply wondering: why haven't fundraisers got the message yet?
It's a great question.
Here are my best guesses (with a little bit of research evidence) – and I'd love to hear yours.
Too many fundraisers are starting from scratch
Especially for smaller charities, fundraisers are often starting out at the bottom: under-resourced, under-supported, and under-educated. As Colin Skehan pointed out in the Critical Fundraising Report for Ireland last year, fewer than one in five fundraisers in Ireland have any formal education in the subject; that figure is a bit higher in the UK, but still 40% or so.
Of course, a formal qualification doesn't mean you're a good fundraiser: on-the-job training is arguably even more important. But even if we do have the knowledge and skills, many of us aren't in post for long enough to make a difference to any single organisation. In one survey half of Irish fundraisers have been in their current job for less than two years, and one-third of us plan to move jobs in the next 12 months anyway.
This is not to blame fundraisers: obviously there are structural reasons why as a sector we are failing to retain staff long-term. But good fundraising is about building relationships with supporters; it takes knowledge. It also takes time.
Which brings me on to my next point.
2. Hyper-focus on the short term
Thanking is not only the basis of good donor care, but thank you letters mean more money in appeals, as this result from Planned Parenthood North East demonstrates:
Those who received the thank-you gave on average $45.32 more than those who did not receive the thank-you. (Shang, Sargeant, Carpenter & Day, Learning to Say Thank You, 2018).
(I invite you to read the whole study as there are lots of subtleties in there about age of the database and type of thank you, but the basic conclusion: thank yous boost appeal income without affecting response rate.)
And we know from our work with DonorVoice that good donor care pays off in long-term donor commitment: not only more income in appeals, but better retention rates, lower attrition rates in regular giving, and – the holy grail of fundraising ROI - gifts in wills.
But all of that takes time to see (not to mention a little bit of expertise to actually track).
We all know long-term KPIs are what we should be focusing on, prioritising them over the vicissitudes of appeal-to-appeal income, response rate, and (personal pet peeve) campaign ROI. But when your board is only focused on the latter, you start 'teaching to the test': focusing on the KPIs they want instead of the ones that matter. And when you're focused on that gala dinner, golf event or once-off appeal, you might not have the time or resources to dig into your database to find the numbers to back up your case.
So by both design and necessity, we are forced to focus on the wrong things.
3. It seems too simple
For my final guess, I'm going to take a little diversion away from fundraising, into another passion of mine: powerlifting (bear with me).
When I started out, back squats were my nemesis. I really struggled to get the right depth, kept feeling like I was falling forward, and I just plain wasn't able to lift as much as I thought I should be lifting.
I asked my trainer what I could do to get better – more solid, less panicked, stronger – at squats. I was sure there was some secret technique or stretch that would finally fix my problem. She stared at me for a few seconds, and then said: "More squats".
Helpful, right? /sarcasm
"More squats" sounded too simplistic. I was already doing that!
But she was right. I needed to pay attention to my form; I needed to have patience; and to do both of these things I needed to squat more. By doing that, I found the tweaks that would work for me - the ones I was hoping she would give me. But I had to find them myself, by just doing it. There is no quick fix.
Sometimes I think when fundraisers – or senior managers or board members – hear that thanking donors raises more money they just don't believe it. There's got to be something more sophisticated, more innovative, more interesting that will solve all their fundraising problems! They go from channel to channel, brand to rebrand, and agency to agency trying to find that holy grail.
But in the words of Kris Hermanns and Tom Ahern:
"if you suck at conventional fundraising tactics… you will also suck at the Shiny New Thing."
The SNT saves a few. NOT you, if you suck.
The Giving Cycle works. The evidence tells us that. One of the most successful fundraising charities in Ireland tells you that. And ASN's individual giving income tells you that: I increased it by 1250% in five years using the Giving Cycle as the framework (no, that's not a typo, that's 1250%).
But ask-thank-feedback seems too easy. Too simple.
It is simple. It's not necessarily easy to implement, create, or follow through.
And now it's over to you… what have I missed? Do you have any tips for your fellow fundraisers?
If you want to chat about how you can build your donor care from the ground up, assess what experiences mean commitment for your donors, or analyse your database to get the figures you need to help convince your board to invest: get in touch.

Subscribe to our Mailing List