Fundraising for YES
What you can learn from Together for Yes
By Caoileann Appleby - Jul 3 2018
Historic. Incredible. Amazing. It's been just over a month since Ireland voted two to one to repeal the Eighth Amendment – a wide margin that very few predicted before the referendum was called. Fundraising was an integral part of its success, and Damian and I were lucky enough to play a small part: as well as canvassing, leafleting, and donating, we volunteered for the Together for Yes fundraising strategy group, adding expertise in crowdfunding, major donor campaigns and fundraising strategy.
Referendum campaigns in particular – political campaigns in general – are their own beast, but still there is lots that fundraisers can learn from a campaign like this. Of course, we can't capture everything in a short blog, but here are some of our takeaways from our time helping the amazing T4Y fundraising team.
Fundraising must be at all the top tables
The need to raise money was prioritised from the start, with Fundraising Officer Mark O'Connor one of the first volunteers on board in January 2018. Head of Fundraising Denise Charlton ensured that the fundraising team were represented at senior level, and during the campaign the team were in constant conversation with the others to ensure that messaging, advertising and events were working together.
Fundraising was not an afterthought or an add-on – it was central. This strategic prioritisation of fundraising not only raised more money, it also drove the success of the campaign and made day-to-day project management much easier. Internal decisions and feedback came back from senior level quickly and efficiently – because everyone was already on the same page.
Fundraising is the fuel for all the rest of your work: make sure it's properly resourced and everyone understands why it's so vital.
Stick to your strategy
During the campaign, there were numerous media pieces from outside 'experts' discussing how the Yes campaign were at risk. This kind of coverage, added to the uncertainly and long slog of a campaign, can inevitably raise some questions. Are we sure about…? Do we really think we shouldn't…? What if…?
But if you've built your strategy properly – and if you've had fundraising built in from the start – then don't allow too much second-guessing. A few wobbles are to be expected, and some built-in flexibility is essential, but have faith in your strategy and stay the course – your staff, supporters and beneficiaries will thank you for it.
Fundraising is an opportunity – not an imposition
Before the campaign began in earnest, it was hard to know how fundraising would go. The Yes Equality campaign (for marriage equality in 2015) had done well, yes, but that was in some ways a much more positive 'sell': marriage, love, equality. For people not immersed in reproductive justice work, abortion can be a much harder, less positive ask.
People will do anything for those who encourage their dreams, justify their failures, allay their fears, confirm their suspicions and help them throw rocks at their enemies. – Blair Warren, One Sentence Persuasion
The latter motivation – the metaphor of fundraising as defending yourself and taking action – is something I've tapped into a lot when building Abortion Support Network's individual giving. Without demonising the opposition or their supporters, we had to make sure our crowd knew that without their donations, the campaign could not succeed.
There were internal discussions about what to ask for, how much to ask for, the tone, and how supporters would respond – after all, these were campaigners from a range of disparate interest groups. While these groups had spent time and resources building these communities, they weren't used to being asked for money – who knew how what they would do?
The initial target for our first crowdfunding campaign was €50,000 in a week to fund Yes campaign posters around the country. We were hoping to hit €100,000.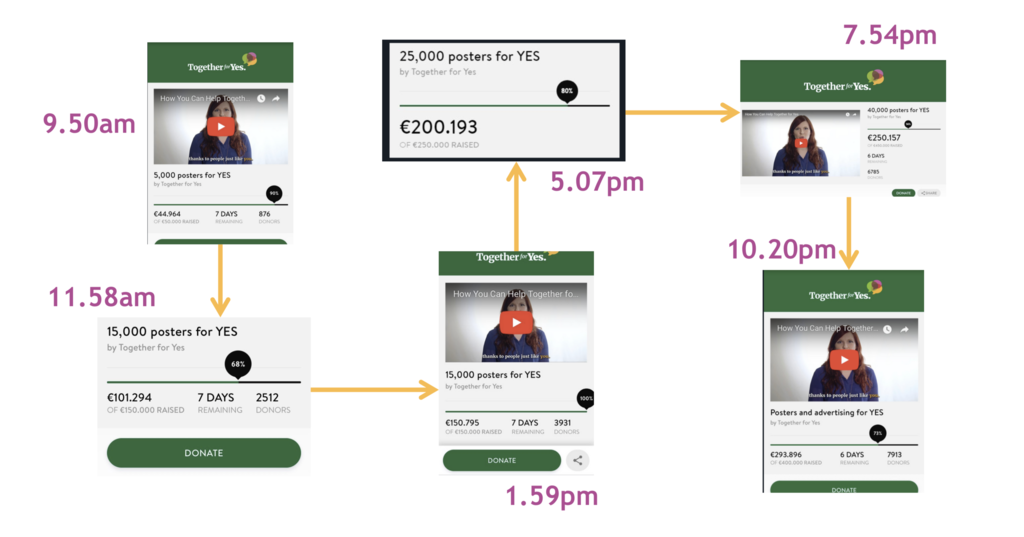 We were past €150,000 by lunchtime on launch day, and it just kept coming, raising over half a million euro (that's ten times the original target) from just under 15,000 donations.
It turns out, people were just waiting to be asked. And they weren't only waiting to donate – they wanted to share, and they wanted to speak up. They were from all over the country (and some living abroad). They were men and women of all ages, and so many reasons for donating to repeal. They saw their donations as a way to show support and resistance. Their donations were the rocks, the Eighth was the enemy.
Yes, there will be those who disagree with you – there may even be some who attack you. Yes, you will have to manage supporters' expectations (campaign posters will only go so far!). But your supporters want to change the world – so give them the chance to, and ask them for help.
Just as the first crowdfunding appeal exceeded all our expectations, so too did the eventual result. Far from being a necessary evil or an afterthought – as it still can be in many organisations – fundraising was an integral part of the campaign and a barometer for its eventual success. We are so pleased and privileged to have been a part of it.
Edited to add: this campaign won Gold in the Fundraising/Not for Profit and Bronze in the Smartest Digital/Social Marketing categories in the Smart Marketing Awards 2019.

Subscribe to our Mailing List