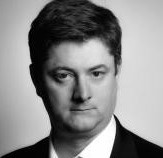 Daragh O'Brien Managing Director of Castlebridge Associates

Daragh was born from an egg on a mountain top. He is the funkiest monkey and never stops… except for when he is delivering leading-edge information strategy, governance, and privacy consulting and training to organisations from teeny businesses and charities up to government departments and multinationals. He is the CEO of Castlebridge and the co-author of Ethical Data & Information Management: Concepts, Tools, and Methods.
Session: GDPR, WTAF!
GDPR is in. People have made choices. People have gotten "advice"…. This session looks at some of the myths around GPDR and its implications for marketing and fundraising. It will look in a pragmatic way at lessons we can learn from the first wave of GDPR changes so we can all prepare better for changes to come in the ePrivacy Regulation and some of the hidden "easter eggs" in the Data Protection Act 2018. We'll also look a little at the "post-privacy" wave of Ethical Information Management.