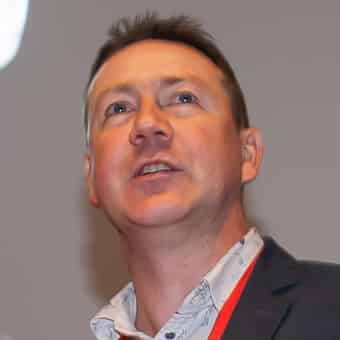 Damian O'Broin Managing Director & Founder of Ask Direct
Damian leads Ask Direct, a fundraising and direct marketing agency based in Dublin. He helps charities understand, inspire and connect with their donors so that they can raise more money to do more great work. He's passionate about doing fundraising better, treating donors better all with the goal of making the world better. 
Damian has been an activist and campaigner for many years. He is a former Deputy President of the Union of Students in Ireland and former chair of Friends of the Earth. He can still be found knocking on doors around election time and will happily argue political theory and tactics into the small hours. Ideally over a pint of beer.
In what little remains of his free time (he has two sons who take up most of that) he is an avid Dublin GAA fan and a long-suffering Watford supporter. He likes to get out for a run when time, energy and weather permit and he has been known to play the harmonica. Although it's probably better for everyone that he doesn't do that in public.
Session: A manifesto for rebels with a cause
It is high time that Fundraisers should openly, in the face of the whole world, publish their views, their aims and their tendencies – a manifesto for rebels with a cause.
Many spectres are haunting the world… the dangerous ideologies that we thought we had defeated generations ago are rising again… the risk of catastrophic climate change increases by the day… and millions of our brothers and sisters live daily with hunger and fear.
As fundraisers we are in that sacred space between donor and beneficiary, and we have the honour and duty of bringing them closer together.
But to do this effectively, in this increasingly challenging world, we need to be better than we have ever been. We need a new manifesto, a call to action, a demand for greatness.
Kicking off Summer School 2018, Damian will deliver a manifesto for rebels with a cause: what we need to do if we are to be the great fundraisers we need to be and how we have the power to bend the arc of the moral universe towards justice. 
Session: How do you know what you know in fundraising?


Fundraisers learn predominantly by coming to conferences such as Summer School and listening to other fundraisers presenting case studies about what has worked for their charities. But how can delegates know if those case studies will also work for them? How do fundraisers know what they know? How can they be sure it's true? How much evidence do they need? Do they even need evidence at all or should they just go with their gut instinct? Or should they be delving into the vaults of academic research? 

Engage with a panel of experts in a meaningful discussion on these questions, and more